Triage-Investigator is easy-to-use, easily configurable, supports a wide array of computer hardware, has powerful boot capabilities, is forensically sound, and comes with technical support and regular upgrades.
The Best Digital Forensic Platform
Triage-Investigator is designed to work with Digital Evidence Investigator® (DEI) and provide a digital forensic platform where forensic labs can leverage investigators to collect and process data and analyze computers and digital devices in the field. The ADF digital forensic platform enables an organization to control search criteria used in the field. DEI with Triage-Investigator enables organizations to roll out digital forensic software to the field quickly with minimal training and confidence that forensic integrity will be maintained during collection, analysis and reporting.
Customer Benefits and Key Features
Extremely easy to use, minimum training required
Easily and quickly generate prosecution ready reports
Very intuitive GUI, optimized for touchscreen tablets and kiosks
Forensically sound, minimize risk
Able to investigate live powered on computers, dead powered off computers, forensic images, the contents of folders and network shares (including shares made available by NAS devices)
Seamless integration with ADF's Digital Evidence Investigator® tool to access customized Search Profiles and large hash sets of known suspect files, including Project VIC and CAID (tested with over 30 million hash values)
Automatic tagging of hash and keyword matches
Automatic linking of files with artifacts
Automatic time zone detection
Recover images from unallocated drive space
Comprehensive video preview and frame extraction
Process NTFS, FAT, HFS+, EXT, ExFAT and YAFFS2 file systems
RAM Capture capability
Powerful booting capability (including UEFI secure boot and Macs) provides access to internal storage that cannot be easily removed from computers
Includes powerful pre-configured Search Profiles
A unique timeline that combines files, artifact records, and people into a single view
Standalone viewer to easily collaborate with others involved with the case
Automated and easy-to-use imaging capabilities to support forensic labs
Detect and warn of BitLocker and FileVault2 protected drives
Decrypt and scan or image BitLocker volumes including those using the new AES-XTS encryption algorithm introduced in Windows 10
Fully encrypted USB key with BitLocker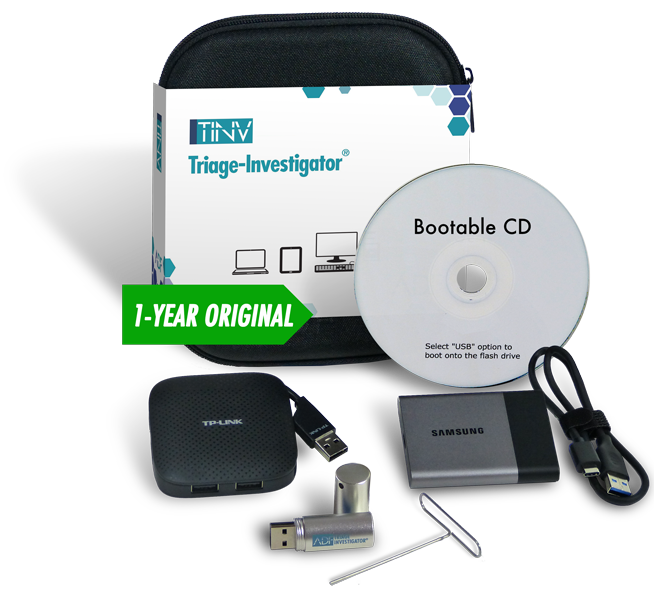 The Triage-Investigator Kit includes:
 One portable case
 One 256 GB high-speed SSD drive
 One USB license key
 One USB Extender
 One four port USB hub
 One boot CD
 One CD opener